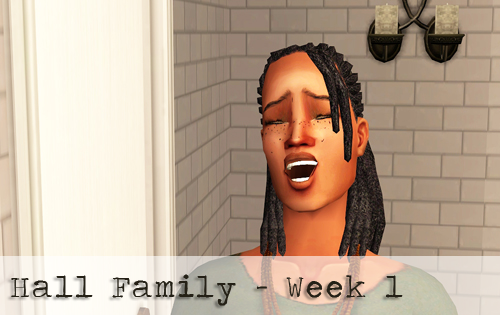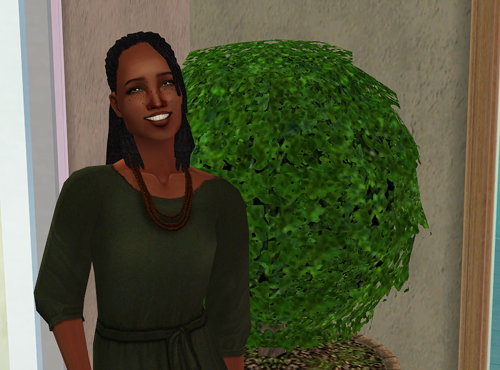 Elsie couldn't be happier. They've finally arrived at their destination and just moved into their new homes. The trip was good and except Engelberts non-social behaviour no big problems have risen. All is good and Elsie invited everybody to her home to socialize a little before the seriousness begins.
Apparently love (read ACR) was in the air, Cardiff & Anne couldn't take their eyes of one another and Sam and Aofie was inseparable.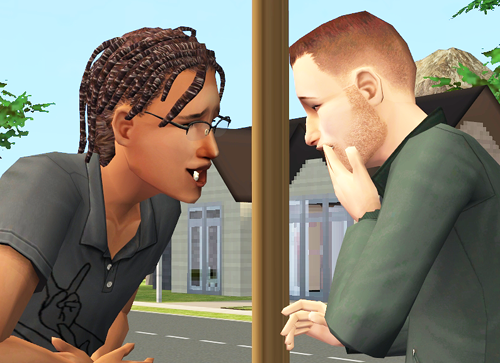 Even Engelbert shared a laugh this sunny day, here with Harris.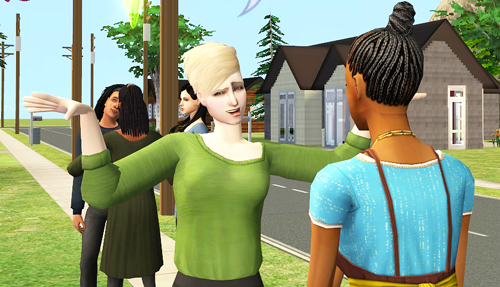 Epic sims-conversation is epic.
And then Harris (shy and nerdy) surprised us all by walking straight to Catherine and giving her a kiss. She doesn't seem to mind though. (I first din't really like Harris but I'm totally falling for him, he is a cutie!)
All and all everything seemed really smooth and everybody was in a good mood. (Funny that they only talked about stuff that I easily could relate to this challenge)
Catherine is a beauty.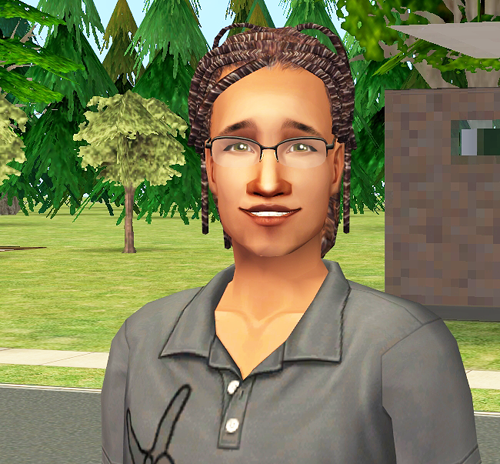 And Harris is a cutie. They had those smiles on their faces all day after that initial kiss.
Engelbert obviously wasn't thrilled by Elsie's company.
Time for some "ham meet sandwiches", what else is there?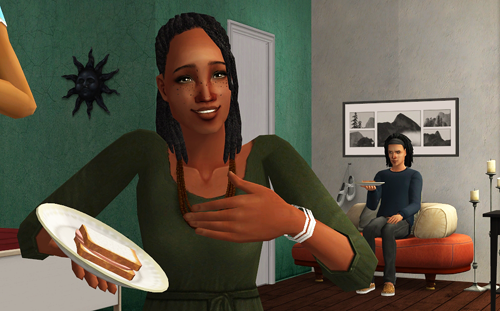 *nom, nom*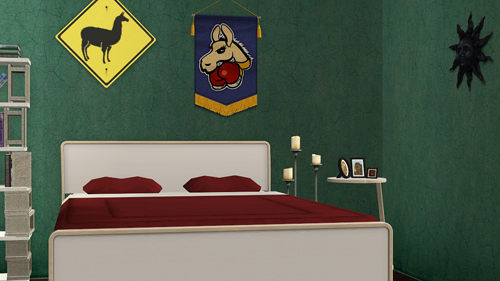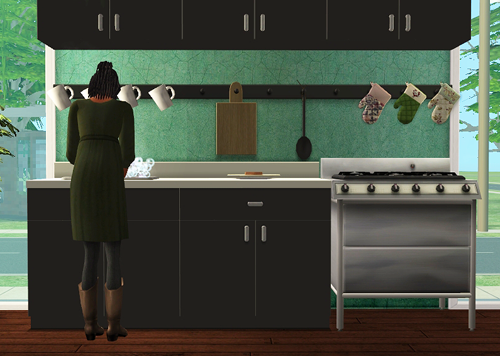 Elsie loves her mini-kitchen and the view outside her windows soothes her.
Engelbert gave me the creeps when he stood there staring at Anne for a really long time. Like he was struggling with himself whether he should say something to her or not. He finally turned away and kept his silence.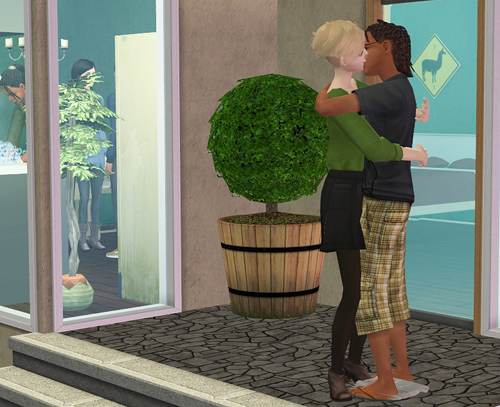 *kissing*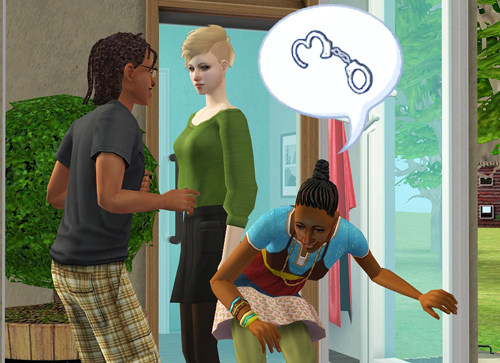 I find this really amusing, Catherine's face could mean so many things. Harris not looking at Piretta but still finding her story very amusing is so typically sims.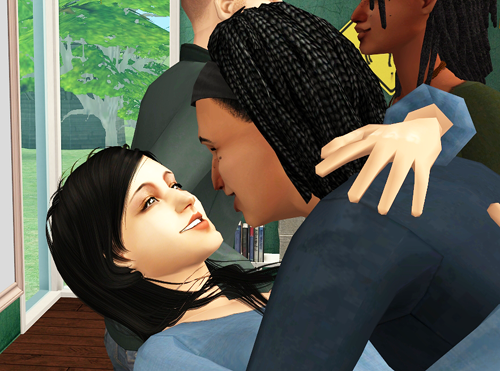 *kissing*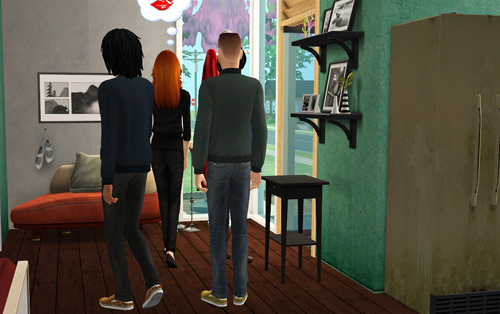 Since it was obvious that the majority of them only had kissing in mind Elsie found that it would be more productive to send everybody home and get started with the real work. She is all about work our Elsie.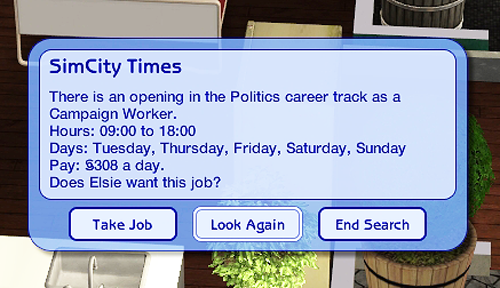 First thing on the to-do-list was finding a job in the Politics Career and she was lucky to find an opening.
Then she got this urge to do some freestylin' and instantly felt this tickling sensation in her spine, telling her that this was her favorite hobby. Music & Dance that is. :)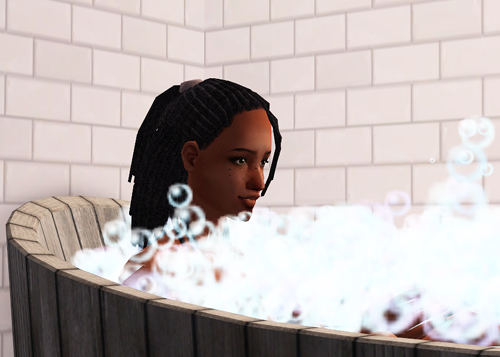 She decided to treat herself with a bubble bath at the end of this first day.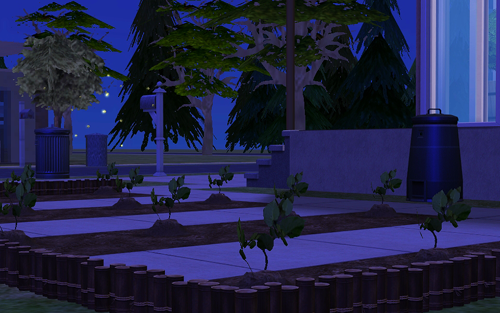 Of course she had planted some crops, tomatoes to be exact. They grew fast, just as they always do in the sims world.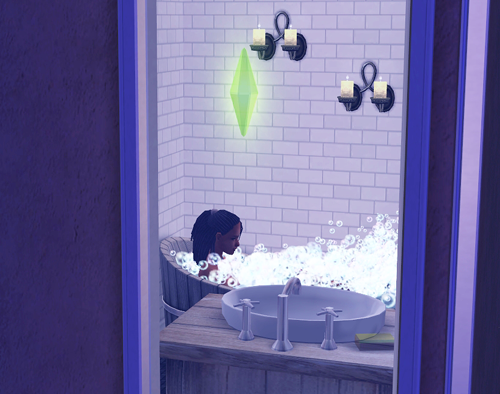 Normal talking to paper boy wearing nothing but a red nightgown, just normal..
Working time!
All day, all night, la chica esta muy loca.. working, that's all she does..
Sam walked buy and they had a chat. He told her about his want to create toys and sell them in his own store. Elsie agreed it to be a wonderful idea. (I found it amusing since I had put a toy making station in Sam's home with exactly that idea in mind)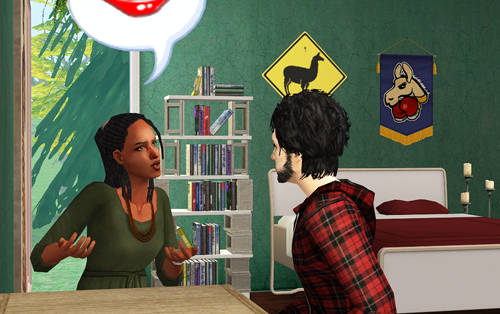 Elsie then brought Sam inside and they sat down at her table. She felt that she had to speak her mind about all the kissing that had happened the other day. I'm not sure whether she got anything out of that though.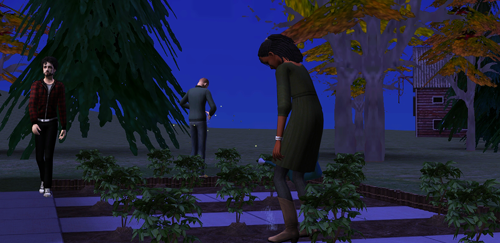 Engelbert also walked by and Elsie greeted him as well. Trying her best to treat all citizens equally.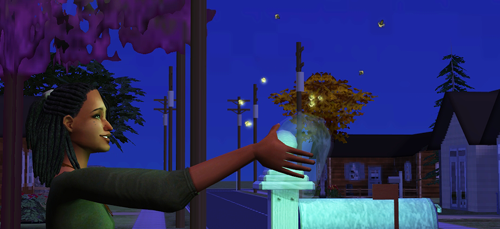 Way to beautiful to be kept inside a jar, Elsie thought and set the fireflies free again.

More work for Elsie.
And it was rewarded with promotion!
Elsie feeling accomplished.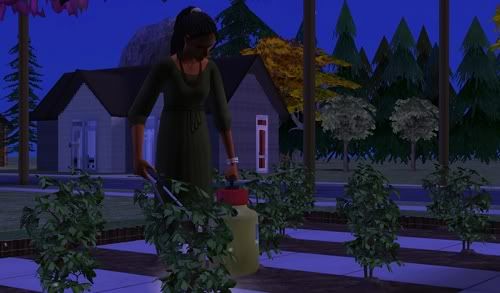 Tending her crops, like all evenings.
Rewarded again.
She has also started building a green house with the money she got from the promotion.
Feeling accomplished?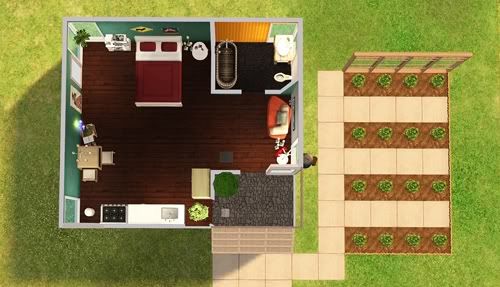 Elsies house. It's a copy of my Cubic Lane 3.
She had become tired of those "ham meet sandwiches" and decided to learn to cook something new.
Then Cardiff surprised us all by coming by to flirt with Elsie. They're two-bolters but we all thought that he only had eyes for Anne. Well, well, we'll have to wait and see what comes out of this.
An then the inevitable happened. Elsie gave her plants a little bit to much love and became a plant sim.
At first she didn't really mind. It was nice to get a gold badge in gardening and she could tend her plants even more properly.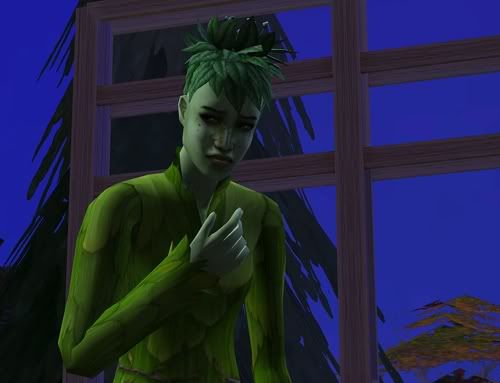 But soon enough doubts filled her mind.
She went to work the next day but her sun-level was too low and she lost her precious job. She was truly devastated. Mistmoor's future depended on her climbing the politics career.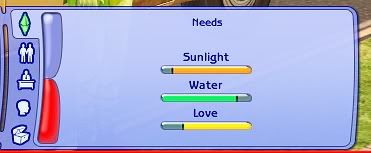 She wasn't sure what to do and for the first time since leaving her old life she missed her family. She missed them more than she thought was possible. As soon as she confessed those feelings she began to feel dizzy. Like something was growing inside her.
A couple of minutes later she had a wonderful baby girl in her arms. She named her Freya.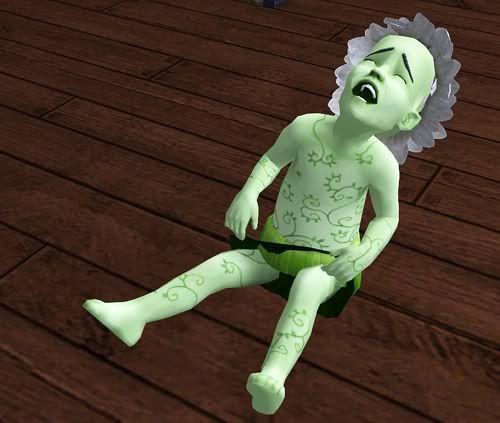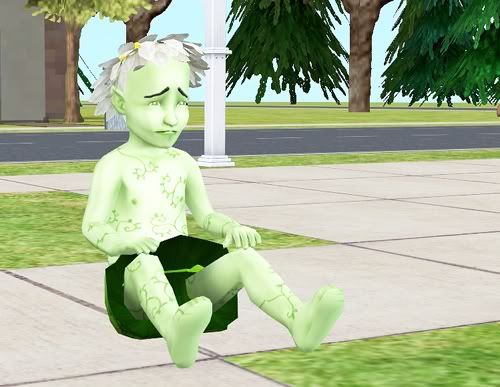 Elsie wasn't always the best of mothers.
But she had her moments.
Piretta came by and Elsie confessed that money was short since she had lost her job. There was no use in keeping the truth only for herself, Elsie thought. Piretta didn't judge her but gave her hope that life would somehow go on.
Aofie also came to visit and she was such a sweetie to Freya. She will become a great mother, I'm sure. :)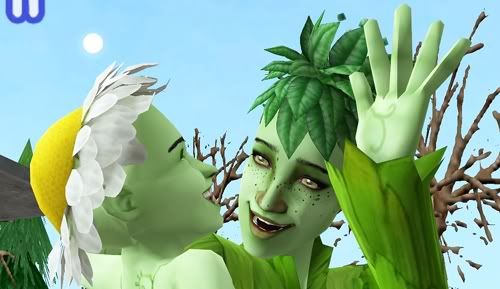 With renewed self confidence Elsie had some more good mother moments.
Freya loves playing music. It fills the air with happiness.
Elsie soon lost her good temper. She couldn't come up with any ideas of how to make money without a proper job but to dig for treasures.

She was a tad lucky and found a 400§ worth old map.
But she lost it anyway and started praying loudly. Please help me get out of this miserable plant-life! she shouted to the sky. Not knowing to whom she addressed her prayers.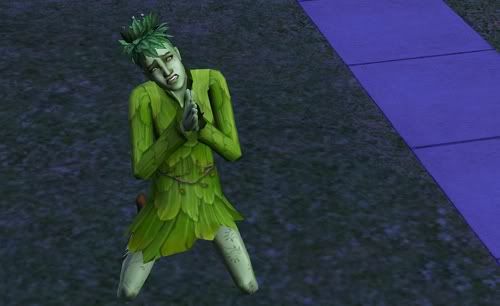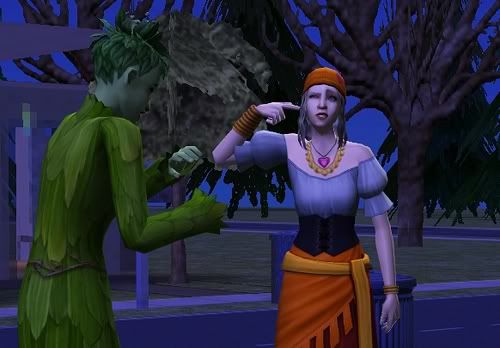 Then suddenly a gypsy like woman turned up.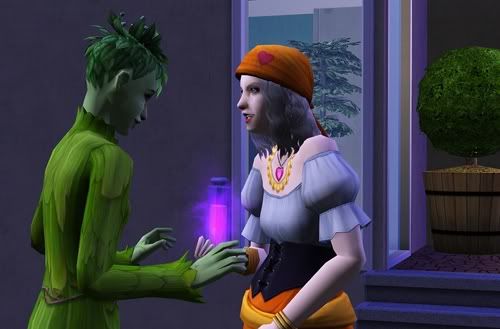 She gave Elsie a bottle containing the most strange pink substance.
"drink it" - the woman said and turned and walked away
Elsie drank and then she screamed. She thought she would die, her body screamed from the pain.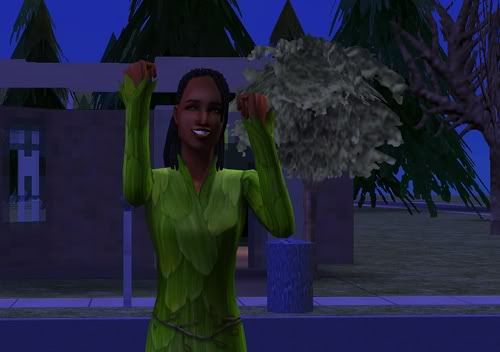 But suddenly it all stopped and Elsie was back in normal "human" shape. Her happiness showed no bounds!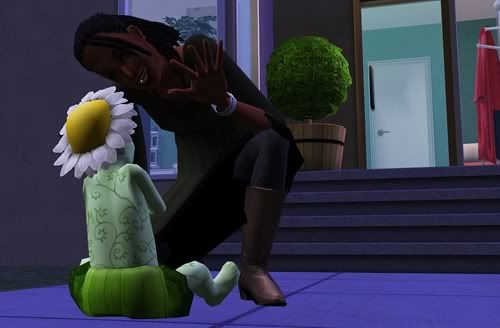 And this sums up the first week in Elsie Hall's household.